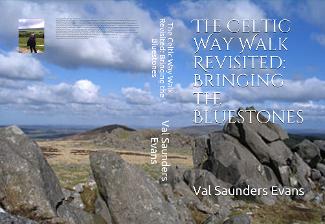 2022
REVISITING THE CELTIC WAY WALK. UPDATING is ONGOING and UPdated on this site as and When.
The wlk has been around and walked completely and in parts for around 23 years. Its strength is in the sections, each one aarea rich in local sites.As a continuous route it follows old tracks and current footpaths and local signed walks., linking a lot of them. Its focus is the walk through as many of the ancient sites in western Britina, from the neolithic megalith builderfs to the Celtic Church. That is why it is named as the Celtic Way. The Celts is teh only nam ewe have for our first people. recent recsearch places them as atlantic peoples reutning to the Celtic lands as the ice made its final retreat. They were a part of a trading and cultural netywork that extanded from the western island across the european landmass to ther caucasus. Now

The Stonehenge Bluestones have been confirmed as originating in the Preseli Mountains of Pembrokeshire.
'Bringing the Bluestones' is the working title for the revision and revisiting of The Celtic Way Walk. Mike Palmer Pearson et all have done amzing work anf their research on the Bluestones' origin has given us a chance at last to ask th question HOW AND WHY?

I don't personally expect to answer those questions but I want to look widely and maybe a little openly madly at the options and possibilities that might have been available and considered by our forebears.
The Stonehenge Bluestones have been confirmed as originating in the Preseli Mountains of Pembrokeshire.
The path of the Bluestones and the Celtic Way have the same start and finish.
As well as revisiting the route, we will look at possible ways the Megalithic people might have chosen to bring the Bluestones to Stonehenge. Dating evidence shows that the Bluestones predated the
Sarsens and Trilithons. see more
The original walking guide created by volunteers who found and described sections local to them. Be aware that it has not yet been updated, but the original has site descriptions that were correct at time of writing c. 1997-8. Do not rely on the guide as your sole source of direction-finding!

ARCHIVE
Published originally in 1998 by Sigma Press, the walking guide runs from Pembrokeshire to Stonehenge.

DOWNLOAD PDF COPY
The Celtic Way Walk
website licensed under a
Creative Commons Attribution-NonCommercial-ShareAlike 4.0 International License
.
Permissions beyond the scope of this license may be available at contact@thecelticway.org.